🎓 Definition
Basket number of items refers to the total number of products purchased by a Customer in a single transaction or "Basket."
🧪 Example of Basket Number of Items
A customer walks into a grocery store and purchases the following:
1 Loaf of bread at 2 USD
1 Gallon of milk at 2.5 USD
3 Apples at 0.5 USD per apples
2 Cans of soup at 1.25 USD per can
1 Box of cereal at 4 USD
The Basket number of items (Number of Unique SKUs) from above transaction is 5.
❓How to increase the Basket Number of Items
Knowing the basket number of item evolution, Retailers can therefore decide on different strategies to drive their Customer spending.
Retailers can use Household Basket data to identify which products are frequently purchased together and adjust their display. For example, if customers often purchase chips and salsa together, a Retailer may decide to display these items near each other in the store to encourage additional purchases, it is commonly known as Cross-Merchandising.
To measure and understand the basket evolution based on the basket number of items, whether a Customer buys more or less product during their shopping.
Based on Campaign Analytics, Retailers may find which promotion mechanic is the most effective to drive additional product purchases. For example, "Buy item A, get 50% off on item B" promotion drive more spending from Customers who did not plan to purchase item B, furthermore, Customer might discover a new product and can encourage repeat purchase.
---
🖥️ Make it happen in Ariane CRM
How to access Basket Number of items in Ariane: 3 Simple Steps
Step 1: Select the Basket Evolution Menu in the Shopper Menu Bar.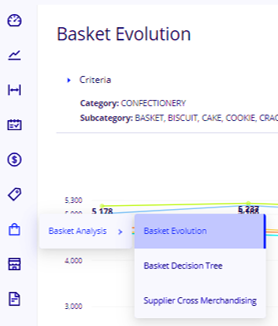 Step 2: Select Option in the Filter Menu and choose the # of Item Metrics you want.

Step 3: Select the frequency at which you want to measure your # of Item Metrics.

And here it is.