🎓 Definition
The Category Management Process is the process by which the Retailer (and Manufacturers as well for their own category) assess the performances of its Category and defines the required tactics to achieve its financial objectives.
The Retailer Category Management Process ends up with category activity planning and strategic choices for its Suppliers.
When undertaking any Category Management Process, it is important to begin by considering the ultimate objective: What decisions Retailers want to make at the end.
💡What are the Steps in Category Management Process
Seven Steps for Category Management Process
Category Definition – Determine the products that fit the Category.
Category Role – Review the purpose of the Category.
Category Assessment – Assess the Category performance.
Category Scorecard – Benchmark the Category performance with the setup objectives and targets.
Category Strategies – Define the optimal strategies.
Category Tactics – Define the action plan to implement.
Plan Implementation – Roll out and implement the action plan.
❓What is Category Management Process used for
Help to Identify the Category Role
To define the objectives that the categories should offer to the customers. Each role also affects how to manage the category. Usually, there are 4 Category Roles for each category.
Routine: Category that is delivering consistent competitive value product.
Destination: Category that delivers consistent, superior products (Shopping destination – Category of choice)
Occasional/Seasonal.
Convenience: Category that delivers good consumer value that customers can't find elsewhere (One-stop-shopping)
Product Range Review
Having an effective range review process is an opportunity for both Retailers and Manufacturers to positively develop their working relationship and grow their category so both parties can benefit from the improvement of the Shopper's experience.
Examples of areas to review the Product Range:
Number of SKUs by status (Active/Inactive/On hold from Purchase or Selling)
Share of Assortment
Number of Brands
Number of Items in Pareto tail
Brand Efficiency
Range Efficiency
Adapt the product range based on the Customer Decision Tree
Having a clear understanding of the Customer Decision Tree will help retailers or manufacturers to understand the buying habits and decision-making process of the shoppers shopping in the Category.
Example of Customer Decision-Making Process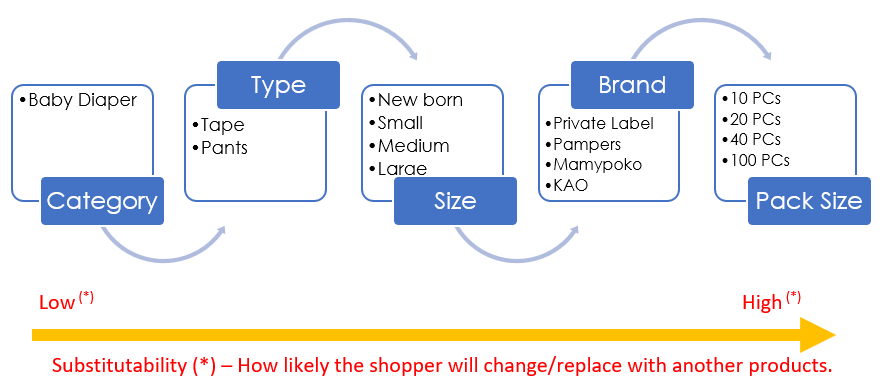 Suppliers Performance Assessment
They help Retailers to assess their Suppliers in their ability to:
Generate Volume (Products and Availability)
Generate Margin
Lead Innovation (New products)
Active the category (Promotion)
Drive Traffic (Shoppers' engagement)
Setup Category Strategy
A category strategy defines what a category needs to do to perform optimally. For example, to drive traffic, generate cashflow or margin, Reinforce customer retention, etc....
Setup Category Tactics
Set and combinations of actions to take on Range, Space, Price, and Promotion to drive category growth.
For Example,
Goal

Grow Sales / Maintain Margin

Decrease Sales/Increase Profit

Range

- Create high-quality Private Label
- Offer multiple quality levels
- Provide a wide variety
- Create as many sub-categories as possible to increase the opportunity for the consumer to purchase

- Reduce the number of EDLP (Everyday Low Price)

- Reduce product range by avoiding redundancy
- Rationalize low-profit & low-volume items



Space

- Place more profitable items in leading positions
- Allocate more space to high-volume, high-profit items
- Tackle out-of-stock as a priority

- Place Private Labels in leading positions
- Allocate more space to high-profit items

Pricing

- To match price point with competitors but not lead
- Never initiate to decrease the selling price
- Maintain margin whenever possible

- Raise price point whenever possible

Promotions

- Try to match with the competitors, especially during the period when they are aggressively doing a promotion

- Reduce promotion frequency
- Avoid running loss-leader promotions
---
---