🎓 Definition
Price index refers to the metric that illustrates how a product, a group of products, categories, or a brand is positioned in the market.
A Retailer uses the Price Index mainly to compare itself with its competitors and adjust its pricing to support its Category Role and Strategies.
🧪 Example of Price Index Calculation
Price Index Formula= (Product Selling Price/Average Product Selling Price Surveyed) x 100
If the Price Index is 100, then the Selling Price is exactly as the average competitor's Selling Price in the Category. Anything higher than 100 means the Selling Price set is more expensive than the competition. It works the same the other way, anything lower than 100 means that the product is competitively priced. A price index of 97 would mean that the product(s) is/are 3% cheaper compared to the average.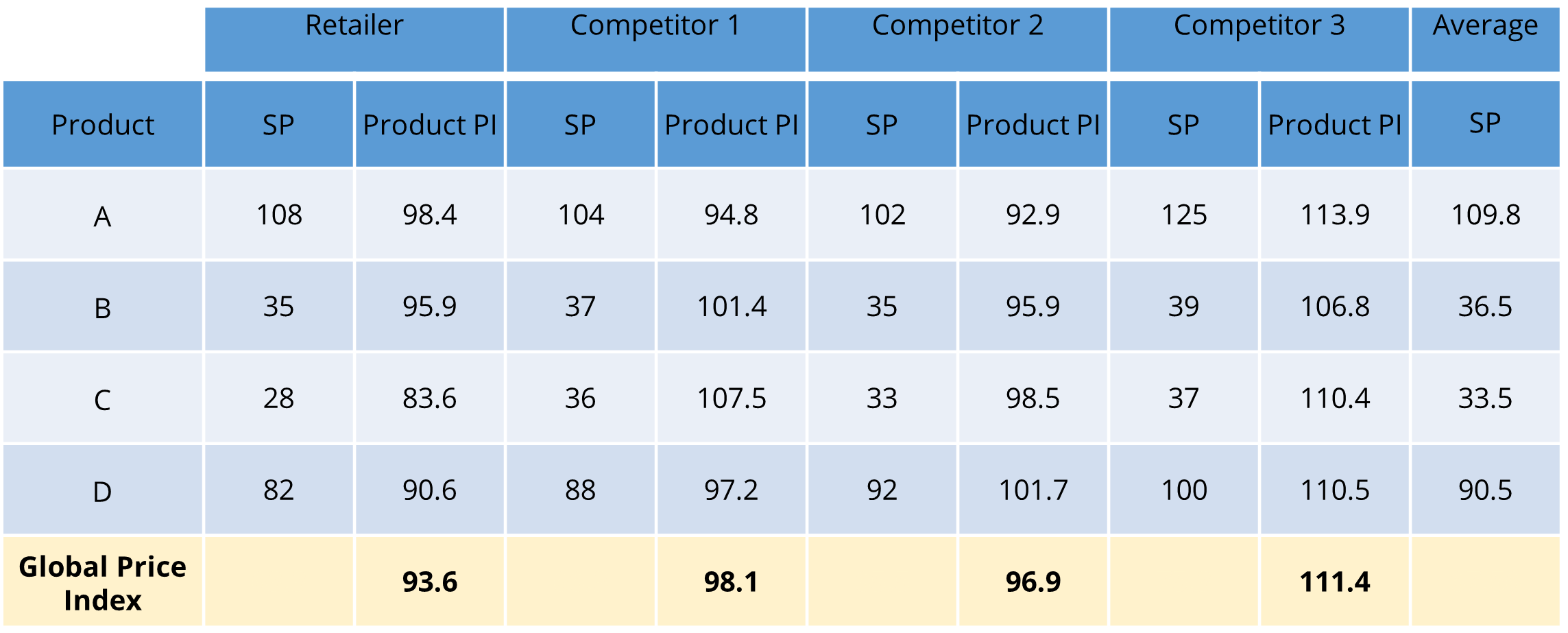 ❓What is Price Index used for
To help the Retailer to understand its price positioning and compare it to its key competitors.
To measure if its Price Index is aligned with the Pricing Policy and adjust its Price Index accordingly.
To help Retailer to keep track of price trends within their category(ies). Sudden movements in pricing, up and down, within the category, will have a clear impact on Price Index.
Price Index also allows measuring the Price fluctuation over different time periods, especially in a Category where Purchase Price are dependent from seasonality, availability, and quality such as Fresh Products.
🎁 Take Aways
Price Index is strongly related to Price Image, it is a metric to drive and support Retailer's Price Image based on Retailer's Price Policy. Not to forget it is one of the key elements to drive customer's perception if a Retailer offers them "value for money"
🧰 Related Working Processes
● Price Image survey
● Customer Panels
● Price Survey (including web scrapping)