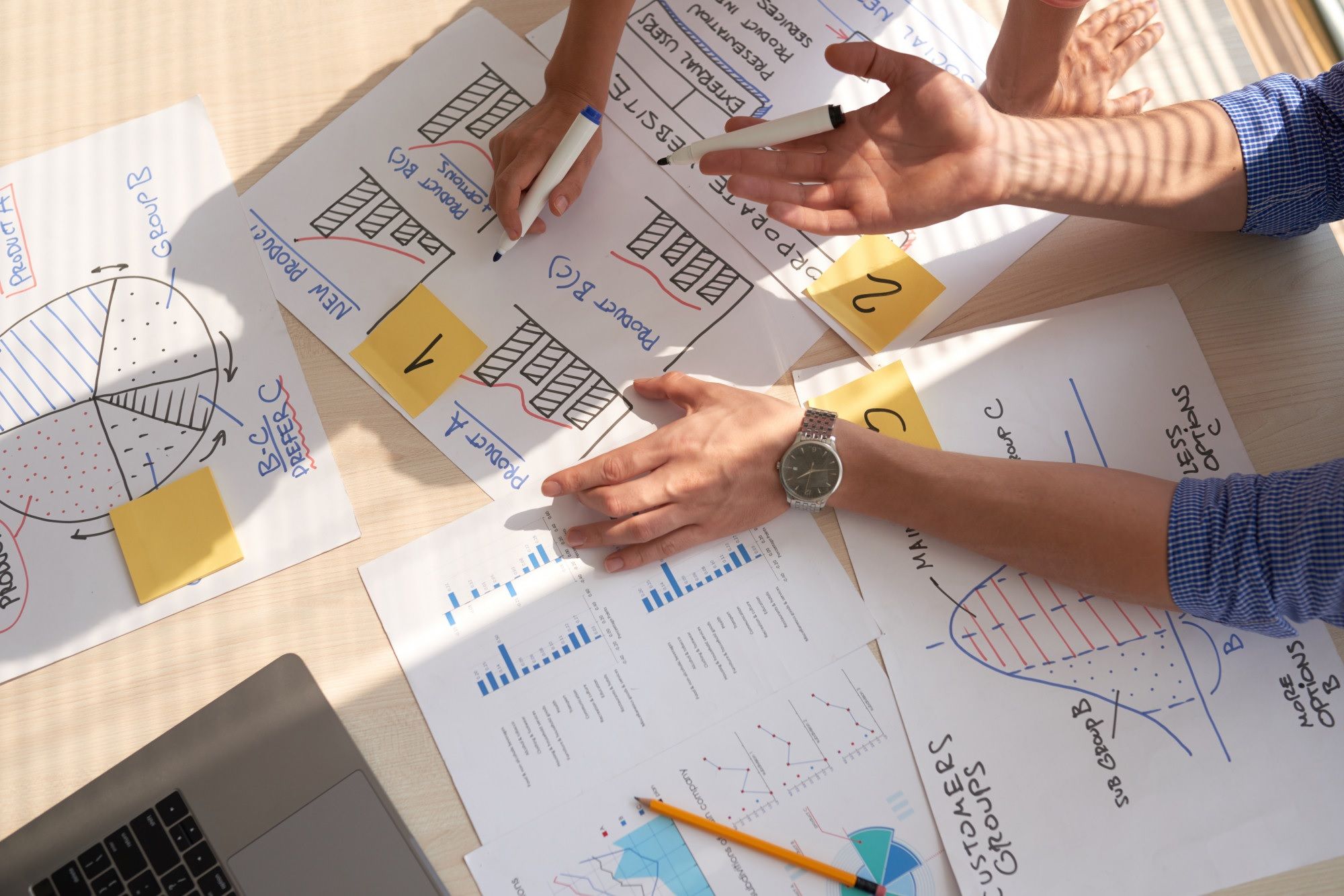 A customer relationship management (CRM) team can help improve a retailer's Commercial Offers by using customer data and insights to inform product selection and placement decisions, promotions, pricing, products availability, and Customer Engagement through personalized campaigns. Here are several ways that a retail CRM team can implement to help improve commercial offerings.
Data Analysis: a necessary step
In addition to the regular data analyses routinely performed by the Merchandise Team and the Customer Surveys and Social Media interactions monitored by the Marketing Team, the CRM Team can gain insights into consumer behavior and preferences. This information can be used to identify trends and patterns in customer demand, and to tailor the product assortment to meet the needs of the target market.

The CRM Team will setup routine and planned analyses that will be shared with the Merchandising Team. For example: basket components, categories penetration, categories spending, Housewife basket
1. Identify gaps in the product assortment

By analyzing customer data, the CRM team can identify gaps in the product assortment and recommend changes to the product mix to better meet the needs of customers. For example, if customer data shows that a particular product segment is underperforming, the CRM team might recommend reviewing the products or brands in the assortment to identify what is missing (unit of needs, price level, brand, pack type, quality…) or what is not needed to increase sales and meet customer demand.

Functions: Category Penetration, Category Spending, Basket Value
2. Optimize product placement
The CRM team can also use customer data to optimize product placement within the store or the website. By analyzing data on customer traffic patterns and cross-merchandising sales data, the CRM team can determine the most effective locations within the store to display and promote products and make recommendations for changes as needed.

Function: Cross Merchandising
3. Improve promotion effectiveness
The CRM team can identify opportunities for promotions that are likely to be successful with the target market. For example, the CRM team might identify a specific product category or brand that is underperforming and recommend a promotion to drive sales in this area. The CRM Team can also use customer data to optimize promotion strategies to maximize the impact of promotions. By analyzing data on customer demand, competitor promotions, and other factors, the CRM team can recommend changes to promotion strategies to improve their effectiveness. Finally, it is important for the CRM team to regularly monitor and adjust promotion strategies and their performance to ensure that they are meeting the needs of customers and achieving the desired results. This involves tracking performance metrics and adjusting promotion strategies as needed.

Functions: Promotion Performance, Promotion history, Suggested Categories, Suggested products, Campaign Analytics
4. Increase Products Availability
By using promotion and campaigns forecasts, the CRM Team is able to anticipate distribution and sales volume. This information is critical to help Merchandisers, Suppliers and Supply Chain anticipate the required quantities and supporting merchandise flows.

Function: Promotion Forecasts
5. Improve Marketing Strategies
The CRM team can provide insights and recommendations to the marketing and sales teams based on customer data and trends. This can help the marketing and sales teams to create more targeted and effective promotions and marketing campaigns, even adjust the promotion and communication plan which can drive sales and improve the overall effectiveness of the product assortment.

Function: Promotion Performances and Campaign Analytics
6. Support Products Rotations at Store Level
In addition to providing recommendations on store layout and products placement, the CRM Team can provide regular information on 3 critical information:
• The most popular items (Housewife basket), which stores will use to ensure optimized display, availability and pricing. This is a simple and efficient sales driver
• Loyal Customers sales contribution, which stores can use to increase their efforts on recruiting and servicing loyal customers with the objective of increasing customer loyalty.
• Provide recommendations to Merchandise teams on stores' specific assortment needs, based on each store Customers behaviors and shopping trends (basket size, basket contents, frequency)

Function: Stores Loyalty Share of Sales, Basket Decision Tree, Shopping Trends
Example of Constituencies & Communication Flow for a retail CRM Team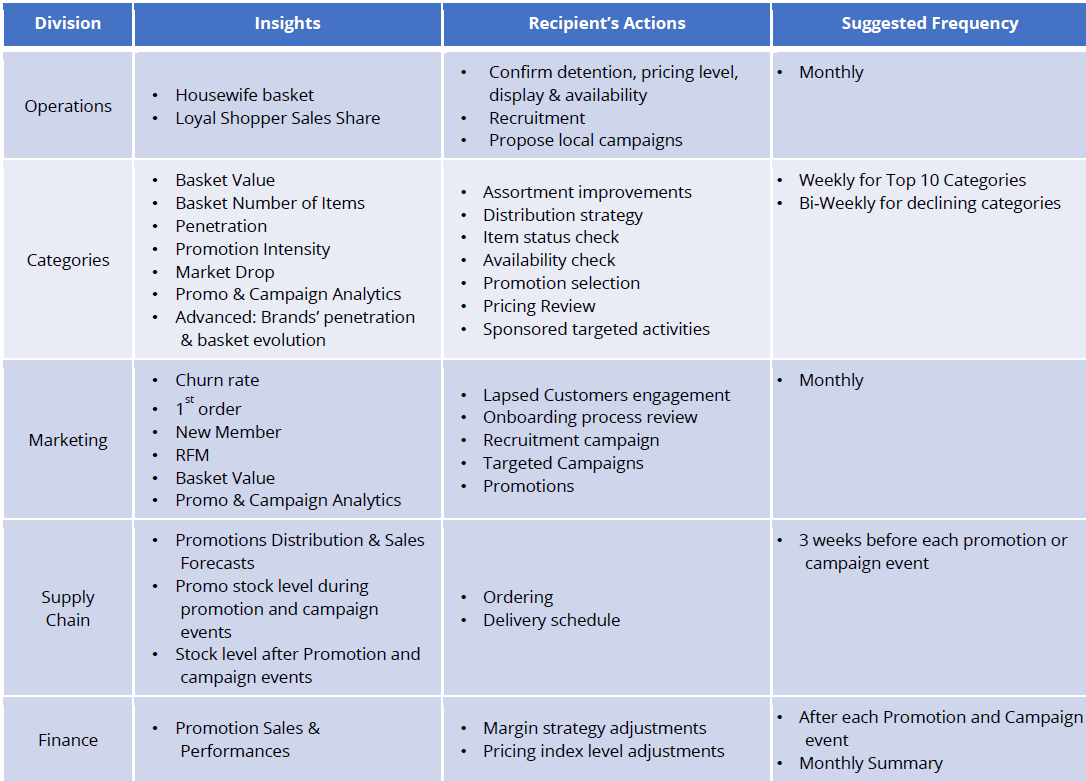 Overall, a retail CRM team can help improve assortment by using customer data and insights to inform product selection and placement decisions, optimize product placement within the store, and collaborate with suppliers to ensure access to high-quality products. By using customer data to inform their decisions, the CRM team can help to improve the overall effectiveness of the product assortment and drive increased sales and profitability.
💡Learn More about Retail CRM
• How to set up a CRM Team at a retailer
• Retail CRM Top 10 business benefits
• Retail CRM Glossary
• CRM Persona & Personalization
• How CRM impacts the entire Customer Experience
• Why Post Campaign analyses are more important than campaign results
• 4 ways to Maximize Campaign Results
Contact us to get the White Papers you are interested!  I want to learn more about Retail CRM
ABOUT HYPERTRADE
Hypertrade is a retail tech company in Category Management and Shopper Behaviors Analytics.
Manufacturers use our platform to manage their multi-retailer data sets and to automate their category management and sales analytics.
Retailers use our platform to improve their Commercial offering, collaborate with their suppliers and Engage their Shoppers.
Building on Sales, POS & Loyalty data, some of the things we fully automate are:
Brand & Category Score card
Brand automatic Diagnostics
Range Optimisation
Promotion Planning & Forecasting
Shoppers baskets analysis
Automate your Business Plans with Hypertrade. Explore!
---
You might also be interested in:
💡Retail CRM
💡CRM Persona and Personalization
💡How CRM Customer Experience impact the whole CX Experience
💡How Retail Tech is changing Category Captainship
💡CRM Glossary For Retailers